Participants & Self Referral
We are currently closed for referrals. Please check back in late January for our February intake. Thank you.
What is Emotional Dysregulation?
Emotional dysregulation (ED) is an inability, or reduced capacity, to manage emotions – that is, to keep emotional reactions within socially acceptable norms. ED can result in longer lasting and more intense emotional responses to challenges or situations, such as being extremely irritable, constantly arguing, slamming doors and shouting, having excessively long temper tantrums. A person's anger, sadness, anxiety, aggression, mood and general behaviour can be negatively affected by ED.
Many young people experience symptoms of distress without meeting criteria for a diagnosis of a specific mental health condition. And certainly, these symptoms can be part of normal development. It is when these symptoms become impairing, like when it leads to significant problems at home, at school, with peers, that an intervention might be considered. While treatments for emotion dysregulation exist, including psychotherapy and medication, the search for additional safe, effective treatments continues.
This study aims to investigate whether or not treatment with micronutrients is safe, cost-effective and, above all, can improve outcomes for individuals with emotional dysregulation.
What are micronutrients?
Micronutrients are minerals and vitamins that are available in your food – nutrients like vitamin B, C, D, zinc, magnesium, iron and copper. We will be giving these nutrients in a pill form.
Why micronutrients?
Taiora (nutrients) are essential for all brain activity including the production of neurotransmitters. Evidence suggests that vitamins and minerals play an important role in hauora hinengaro (mental health) difficulties and that providing micronutrients can reduce symptom severity.
Recent trials have demonstrated that micronutrients can improve emotion regulation, reduce stress and improve attention, concentration and hyperactivity symptoms and improve insomnia, all with limited side effects.
Further research is needed to explore the potential of micronutrients as a treatment specifically for symptoms of emotion dysregulation in youth.
What is a randomised controlled trial (RCT)?
The RCT is viewed as the gold standard for testing whether or not treatments work. Participants will be randomly assigned to one of two groups. The groups consist of the treatment group (who will receive micronutrients) and the placebo group (who will receive an identical product that contains no micronutrients).
What is the trial?
We are looking for about 150 teenagers (12 -17) who are struggling with their mood and who are not currently taking any medications for psychological difficulties or distress, such as antidepressants (e.g. SSRIs) or anti-anxiety medication (e.g. benzodiazepines). Parents of teenagers will also be required to participate as the study will collect data from both parents and their teens.
The trial will first include a 2 week initial baseline monitoring phase, where no treatment or placebo will be offered. After that, both groups will take either placebo or micronutrients for 8 weeks. Parents and teens will complete initial assessment questionnaires and weekly monitoring of their symptoms. The both the treatment and placebo condition will include taking 12 capsules per day (4 pills, 3 times a day) for 8 weeks. The following picture demonstrates the size of the pills that need to be taken: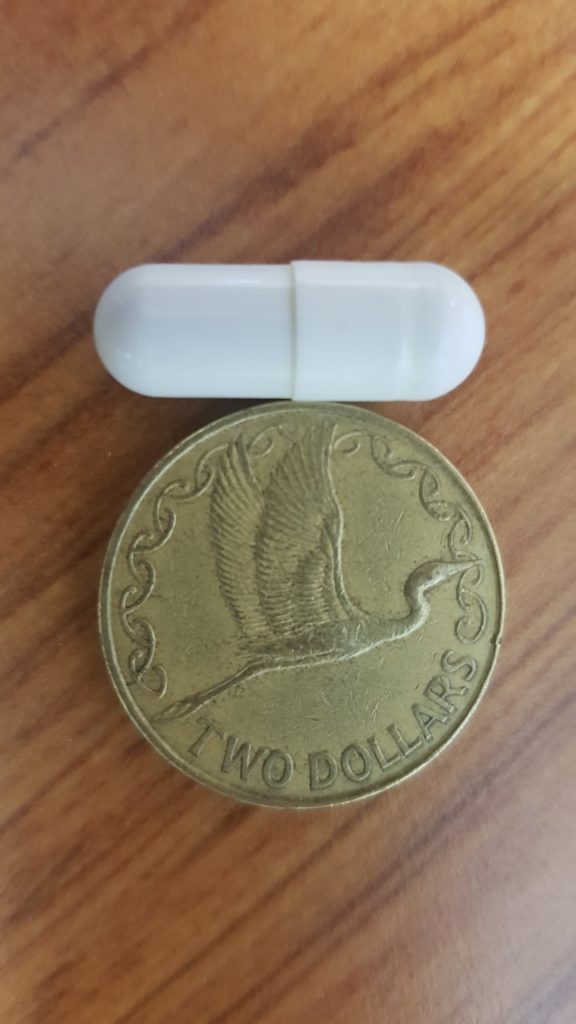 At the end of the 8-week trial period, participants will be offered the opportunity to take the micronutrients for a further 8 weeks, regardless of which group they were in to begin with. That way, everyone who participates in the study has the chance to try the micronutrient intervention. Twelve months later, participants will be contacted again for follow-up.
All products will be given free of charge, there are no costs associated with participating in the research. This study is partially funded by an HRC Explorer Grant. The nutrients and placebo have been approved for study by the Standing Committee for Therapeutic Trials (SCOTT). The trial has been prospectively registered under the Australian and New Zealand Clinical Trials Registry. Trial Identification = ACTRN12621000399897. Universal Trial Number = U1111-1253-6457. Ethics approval was granted through the New Zealand Heath and Disability Ethics Committee 20/STH/164 on 20 December 2020. This trial is funded by the Health Research Council (New Zealand).
The results from the trial will be published when the trial is completed.
Please Note:
Micronutrients are not a proven treatment for ED. For more information about treatments for ED, please speak to your GP or mental health professional.
---
What is the intervention?
The micronutrient formula that will be used in the trial is Daily Essential Nutrients. The ingredients are as follows:
Ingredients:
1 capsule
12 capsules
Vitamin A (as retinyl palmitate)
144 mcg
1728 mcg
Vitamin C (as ascorbic acid)
50 mg
600 mg
Vitamin D (as cholecalciferol)
6 mcg
72 mcg
Vitamin E (as d-alpha tocopheryl succinate & mixed tocopherols)
16.2 mg
194.4 mg
Vitamin K (75% as phylloquinone; 25% as menaquinone-7)
10 mcg
120 mcg
Thiamin (as thiamine hydrochloride)
5 mg
60 mg
Riboflavin
1.5 mg
18 mg
Niacin (as niacinamide & nicotinic acid)
12 mg
144 mg
Vitamin B6 (as pyridoxine hydrochloride & pyridoxal 5-phosphate)
5 mg
60 mg
Folate (as L5-methylfolate calcium & calcium folinate)
75 mcg
900 mcg
Vitamin B12 (as hydroxocobalamin acetate & methylcobalamin
& adenosylcobalamin)
75 mcg
900 mcg
Biotin
90 mcg
1080 mcg
Pantothenic acid (as calcium D-pantothenate)
2.5 mg
30 mg
Choline
16 mg
192 mg
Calcium (as chelate)
110 mg
1,320 mg
Iron (as chelate)
1.15 mg
13.8 mg
Phosphorus (as chelate)
70 mg
840 mg
Iodine (as Atlantic Kelp)
17 mcg
204 mcg
Magnesium (as chelate)
50 mg
600 mg
Zinc (as chelate)
4 mg
48 mg
Selenium (as chelate)
17 mcg
204 mcg
Copper (as chelate)
0.6 mg
7.2 mg
Manganese (as chelate)
0.8 mg
9.6 mg
Chromium (as chelate)
52 mcg
624 mcg
Molybdenum (as chelate)
12 mcg
144 mcg
Potassium (as chelate)
20 mg
240 mg
Proprietary blend ingredients:
Great Salt Lake minerals
Mixed tocopherols and mixed tocotrienols
Alpha-lipoic acid
Inositol
Acetylcarnitine (as acetyl-L-carnitine hydrochloride)
Grape seed extract
Ginkgo biloba leaf extract
Methionine (as L-methionine hydrochloride)
Cysteine (as N-acetyl-L-cysteine)
Boron (as chelate)
Vanadium (as chelate)
Nickel (as chelate)
Other ingredients:
Vegetarian capsule (hypromellose, titanium dioxide)
Microcrystalline cellulose
Magnesium stearate
Silicon dioxide
The placebo formula ingredients are as follows:
Ingredients:
1 capsule
12 capsules
Yellow corn masa flour
554.4 mg
6652.8 mg
White rice flour
45.25 mg
543 mg
Caramel colour powder (class 1)
20.16 mg
241.92 mg
Magnesium stearate
4.25 mg
51 mg
Microcrystalline cellulose
4.25 mg
51 mg
Silicon Dioxide
1.58 mg
18.96 mg
Riboflavin
0.1 mg
1.2 mg
Hypromellose capsule, size '00' white
(contains HPMC & titanium dioxide)
136.0 mg
1632.0 mg
Inclusion and Exclusion criteria
INCLUSION:
Teenagers between 12-17 years of age
regular access to the internet,
considered reliable and compliant with the protocol (including the ingestion of as many as 12 capsules/day with food/kai),
struggling with their mood or symptoms of emotion dysregulation which are impairing their ability to function,
and be living in Aotearoa/New Zealand for the full 12 months of the trial,
Have sufficient ability to read and write in English in order to complete questionnaires,
Be attending primary or high school,
Be identified as having at least moderate symptoms of emotion dysregulation and problems managing strong emotions based on questionnaires that will be given at the initial screening by the researchers.
Have the involvement of a parent/caregiver who will also be required to complete questionnaires. Parent/caregivers will not have access to their child's individual results neither will children have access to the data given by their parents.
EXCLUSION:
The main strict contraindications are metabolic conditions such as Wilson's disease (copper), haemochromatosis (iron), phenylketonuira (phenylalanine) and trimethylaminuria (choline) as these disorders can interfere with the absorption of the multi-nutrients.
Neurological disorders involving brain or other central function (e.g., intellectual disability, autism spectrum disorder, epilepsy, MS, narcolepsy) or other major psychiatric condition requiring hospitalization (e.g. significant mood disorder with associated suicidality, substance dependence or psychosis),
Be pregnant/breastfeeding or planning pregnancy/breastfeeding.
Any person known or suspected to be allergic to the ingredients of the intervention and placebo (see above).
Any other medication with primarily central nervous system activity, including psychotropic medication (e.g. SSRIs, tricyclics, benzodiazepines). Participants must have been off of these medications for a minimum of four weeks prior to the trial. Prospective participants are encouraged to continue taking their medications and consult their medical practitioner if they are interested in taking part in this trial.
All participants will be monitored by a psychologist throughout the trial. For those who identify as Māori, we have a Kaupapa Māori clinical psychologist on the team.
If you and your whānau are interested in participating, please complete the referral form and information.